ACT magazine (Art, Culture, Talent) is an independent, Triannual Print Magazine, founded in 2020 and based in Toronto. We aim to be a destination to satisfy your aesthetic hunger and a place to showcase unique, creative people and artists of all kinds. ​​​​​​​
The aim of ACT magazine is to inspire and to communicate a statement of quality and style, making every copy a timeless statement of what we find beautiful.  ACT is timeless, the immediacy of fashion is another story. ACT printed magazine is distributed internationally, with more than 400+ outlets worldwide, its large format allows the reader to dive into a world of amazing imagery and its art direction is carefully planned to cherish both the beauty and the message of each issue and contributor. 
Each issue is driven by our own realities and our own voice. The subject is at the heart of each issue and beyond the images it tells a story with a captivating plot acted by talented contributors. 
See The ACT creative studios produces 100% of its content/editorials. ACT Studios capabilities range from strategy to creation: cinematic, stylized and thoughtful film & photography, derived from an original understanding of culture; strategy, conception, direction, create, capture, post production.
editor in chief / creative director 
For ACT Studio inquiries, Advertising and collaboration questions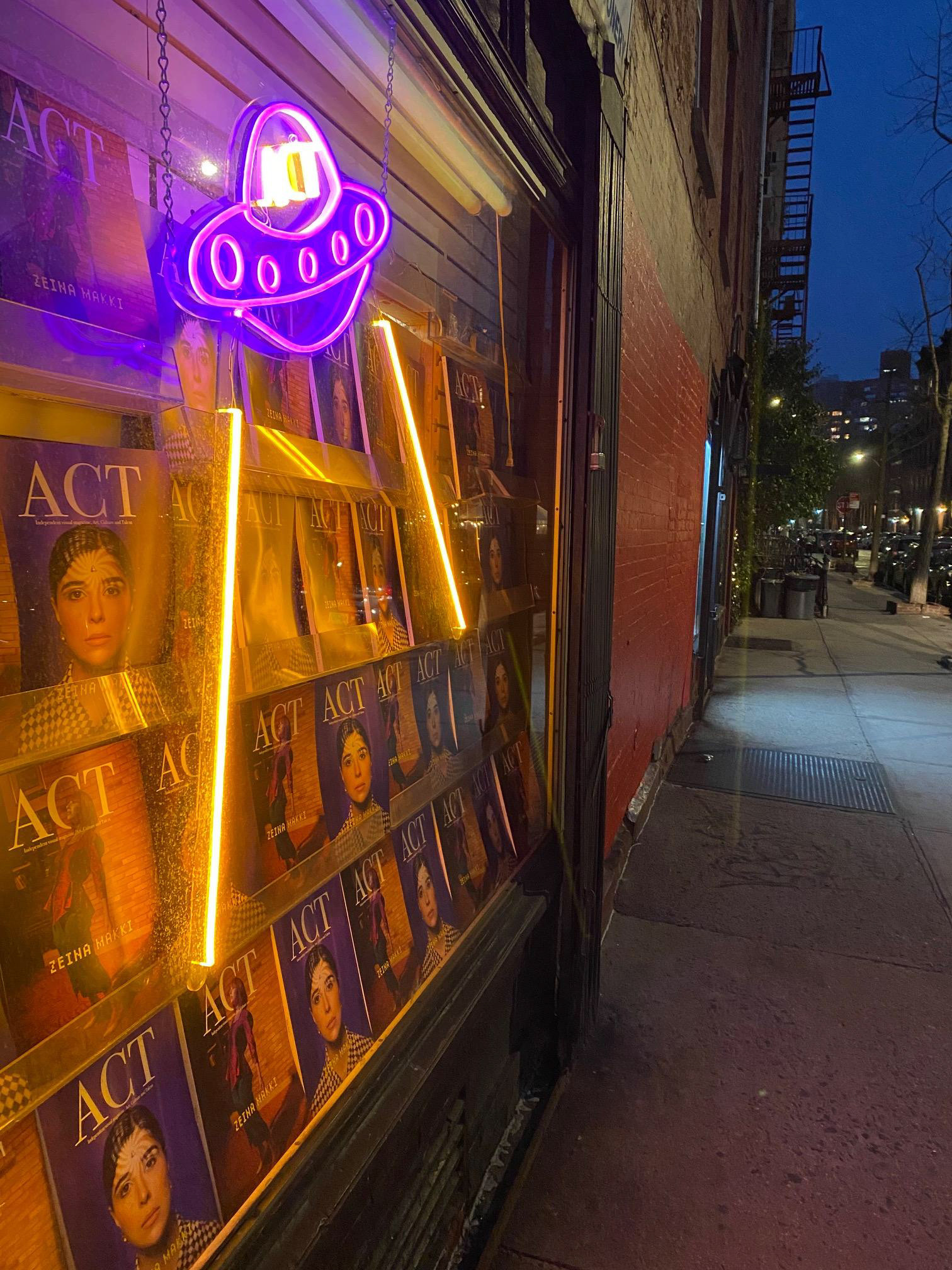 more than 50+ outlets throughout USA to be added to our distribution network in March 2021
Casa Magazines
22 8th Ave, 
New York, NY 10014
Mulberry Iconic Magazines
188 Mulberry Street
New York, NY 10012
Bouwerie Iconic Magazine
215 Bowery
New York, NY 10002
Iconic Cafe
238 Lafayette Street
New York, NY 10012
Magazine Cafe
15 W 37th St
New York, NY 10018
Quail Ridge Books
North Hills
4209-100 Lassiter Mill Road
Raleigh, NC 27609
Downtown Books & New
67 North Lexington Avenue
Asheville NC 28801
Smoke Signals Newsstand 
2223 Polk Street
San Francisco, Ca 94109
Casa Bosques
Cordoba 25, Roma Norte
Mexico City, MX
more than 50+ outlets throughout Canada to be added to our distribution network in March 2021
Atlantic News
5560 Morris Street
Corner of Morris and Queen
Halifax NS
Les Magazines Lecto Inc
3440, ch des Quatre-Bourgeois, 
Québec, QC G1W 4T3
Tabagie du Boulevard
3760, boul des Forges, Trois-Rivières, 
QC G8Y 4R2
Glebe Tobacco Shop
844 Bank St, Ottawa, 
ON K1S 3W1
Christopher's Variety
26 James St, St. Catharines, 
ON L2R 5B8 
Presse International
2068 Queen St E, Toronto, 
ON M4E 1C9
Presse Internationale
537 Bloor St W, Toronto,
ON M5S 1Y5


Smoker's Corner 
1355 Kingston Road, Pickering,
 Ontario, L1V 1B8
Dominion News & Gifts Ltd
262 Portage Ave, 
Winnipeg, MB R3C 0B6
McNally Robinson Booksellers
4000-1120 Grant Ave, Winnipeg, 
MB R3M 2A6 
McNally Robinson Booksellers
3130 8 St E, Saskatoon, 
SK S7H 0W2

Club Cigar Store
301 5 St S, Lethbridge,
AB T1J 2B4
Daily Globe News
101-1013 17 Ave SW, 
Calgary, AB T2T 0A7
Al's News
10028 100 Ave, Grande Prairie, 
AB T8V 0V3
Bill's News
10212 10 St, Dawson Creek, 
BC V1G 3T4
MC News
1460 Lonsdale Ave, North Vancouver, 
BC V7M 2J1
ISBN könyv+galéria
1081 Budapest, Népszínház u. 19. 
HUNGARY
Ofr. Paris
20 Rue Dupetit-Thouars
75003 Paris, France
Librairie Candide
Place Georges Brugmann, 1
1050 Bruxelles
IMS STADSFEESTZAAL
Hopland 31 Winkel 253
2000 Antwerpen, Belgium
IMS KASSRUI
Kassrui 11
2000 Antwerpen, Belgium
FASHION ROOM FIRENZE
Via il Prato 7/r - 50123 Firenze
more than 50+ outlets throughout UK to be added to our distribution network in March 2021
Rainbow News
63 Golborne Rd
London W10 5NR
Shreeji Newsagents
6 Chiltern St. London, UK
44.20.7935.5055
Reading Room
Rococo News & Magazines
12 Elgin Crescent
London W11 2HX
Magazine Heaven
Unit A1b - South Terrace
Rushden Lakes Shopping Centre
Northamptonshire
NN10 6FS
Magma Flagship Store
29 Shorts Gardens
Covent Garden
London
WC2H 9AP
Magma Ckerkenwell
117-119 Clerkenwell Road
London
EC1R 5BY


Magma Manchester
24 Oldham Street
Northern Quarter
Manchester
Charlotte St News
66 Charlotte St
Fitzrovia
London W1T 4QE
Allscript Establishment (S) Pte
4 Kaki Bukit Avenue 1, Singapore
CM2 6TE
Artwords Broadway Market
20-22 Broadway Market
E8 4QJ
Artwords Rivington St
65A Rivington St
EC2A 3QQ
Atika London
55-59 Hanbury St
E1 5JP
Barbican News
34 Goswell Road
EC1M 7AA
Camden News
227 Camden High Street
NW1 7BU
Eleven o
Tullinsgade 21, København V, 1618
Gilbert's Book Shop
26 Circus Road, St. John's Wood
NW8 6PD
Harry's
8 Westbourne Grove, Bayswater
W2 5RA
M & M News
1 Elm Terrace, Constantine Road
NW3 2LL
Mag One
68 Rosslyn Hill, Hampstead
NW3 1ND
Mayhew News
15 Motcomb Street
SW1X 8LB​​​​​​​
Rococo News
12 Elgin Crescent
W11 2HX
The Maida (Clifton Rd)
19 Clifton Road
W9 1 SY
Thrive News
Westfield London, Ariel Way
W12 7SH
WeLovePrint Stall
Old Spitalfields Market
E1 6EW
Basheer Graphic Books,
Block 231, Bain Street
#04-19, Bras Basah Complex
Multi-Arts Corporation
Jhongshan Dist., 
Taipei 10455, Taiwan
The Paper Magazine Club 
Seogyo dong, Mapo-gu
more than 45+ outlets throughout The UAE to be added to our distribution network in March 2021
We are frequently expanding our network around the world. Check back for more options and ways to buy ACT Magazine or email us for more information. 
ACT Magazine is Currently available online, WorldWide. Hurry-up, a limited amount of copies is still available from Issue #1 & #2.